Floppy Disks
In order to properly use a floppy disk, follow this information.

Insert into the proper drive
The computer drive for the floppy disk is commonly referred to as the A Drive. To read the information contained on the floppy disk, insert the disk into the A Drive slot on the computer.

Initialize/format disk (Erase)
Double-click on My Computer icon to open it. Click on 31/2 Floppy (A): icon to highlight it. In the menu bar, click on File. Click on Format. Click Start button in Format dialog box. When the disk is formatted, close the dialog boxes.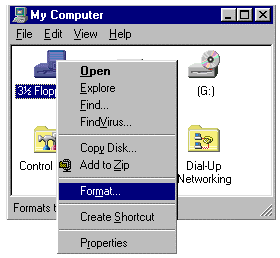 Place label on disk
In order to identify the information contained on the disk without having to insert it into the computer, most disks come with adhesive-backed labels to attach to the disks. The names of the files can then be written on the labels.

Remove from Drive
Next to the door where the disk is inserted in the computer is a button. Pressing this button will cause the disk to be ejected from the drive.

Why would you want to put a label on the disk with the name of the file contained on the disk?

Return to Workshop Overview
Introduction to Computers
Developed by Alyce Bunting, Jintavee Monsakul, and Donna Green

Return to Introduction to Computers

Return to dfgreen home page
dfgreen.com