System Options

Adjusting mouse controls


Click on the Start button

that is on the left side of the task bar.


Point to Setting and then Control Panel.


Click the mouse icon in the control panel window and set preferred properties as described in following table and then click OK.
Buttons Tab

Buttons configuration

Use for selecting major mouse button. Two options have been provided, right-hand or left-hand option button.

Double-click speed

Use for selecting time between sequence of clicks when double-clicking by moving slide bar.

Test area

To test double-click area, double-click the icon

Pointers Tab

Scheme

Use for selecting a saved cursor pointer scheme from drop-down list.

Save as

Click to save current pointer settings as a scheme.

Delete

Click to delete selected pointer scheme.

Use Default

Click if you want to use default pointer scheme.

Browse

Click to replace selected pointer with another pointer.

Motion Tab

Pointer Speed

To change speed of pointer when moving the mouse, drag slide bar.

Pointer trails

Select to show a trail when moving the mouse. Then, drag slider to adjust length of pointer trail.

Adjusting volume controls


You can control the audio volume for playback, recording, and other installed audio devices by following these three steps:


Double-click sound icon that is on the right side of the task bar. A volume control dialog box appears above the task bar.


Select volume controls by dragging the slider up/down or by selecting the mute box.


Close a volume control dialog box by clicking the close button at the left top of the box.


With the volume control, you can:


Control volume on sound devices.


Control the balance between speakers on sound devices.


Mute one device while playing another to avoid mixing sounds.


Mute all sound devices.

Changing background color/ pattern on desktop (for Windows 98)


To change the background color:


Open display dialog box and right-click on desktop and then click properties OR click start button that is on the left side of the task bar. Point to settings, then point to control panel, and click at Display icon.


Click Background tab. You will see the sample area shows a preview of the selected background, wallpaper, and pattern.


Click the background you want to use in Select and HTML Document or a picture list box OR click browse to choose a graphic or HTML file stored on your computer.


Click Display drop-down list and select the display of the wallpaper picture. Display options are as follows:
Center: Puts one wallpaper image in the center of a screen.
Tile: Covers the entire screen with small wallpaper images.
Stretch: Stretches wallpaper image to fill screen area.


Click Apply to preview change OR click OK to accept the changes and close dialog box.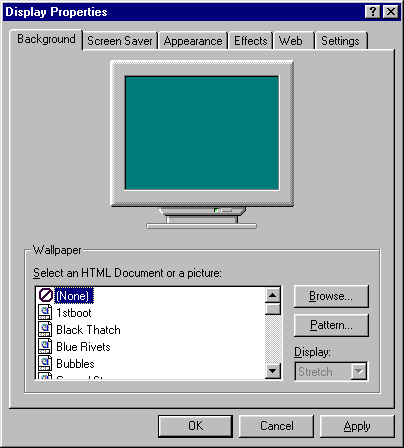 Note: You can use most graphic files, such as bitmap (.bmp), GIF (.gif), and JPEG (.jpeg) images, as wallpaper.

To change background pattern for the desktop:


Open Display Properties dialog box as mentioned earlier.


Click Background tab and then select None from Wallpaper list box.


Click Pattern to choose a patterned background.


When the Pattern dialog box opens, you can select a desired pattern.


Click OK to close the Pattern dialog box and click OK again to accept changes and close Display Properties dialog box.

Practice any of these options that interest you. Remember if you make changes you do not want, you can click the Cancel button. Be sure that you click Cancel before you click OK. Sometimes you can click the Apply button to see the changes. Then you can decide whether to click OK or Cancel.

Return to Workshop Overview
Introduction to Computers
Developed by Alyce Bunting, Jintavee Monsakul, and Donna Green

Return to Introduction to Computers

Return to dfgreen home page
dfgreen.com