Menus
A menu is a list of commands or options from which you can choose. You can choose an item by highlighting it and pressing Enter on the keyboard. You can also choose an item by pointing to it with the mouse and clicking.
There are several different kinds of menus:


Pop-up menu: appears temporarily when you click the mouse button on a selection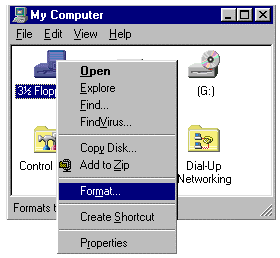 Pull-down menu: special type of pop-up menu that appears directly beneath the command you selected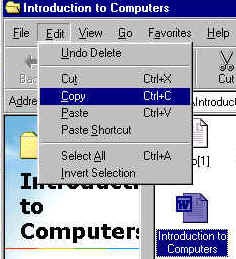 Cascading menu: submenu that opens when you select a choice from another menu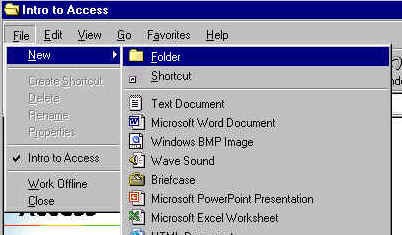 Menu-bar: a list of options that is revealed when you select a menu name at the top of a window. These menus are contained on the menu bar. In the example above, the menus include File, Edit, View, Go, Favorites, and Help.

Looking at the examples above, what options would these menus give you? Practice opening some menus and looking at the different options available.

Return to Workshop Overview
Introduction to Computers
Developed by Alyce Bunting, Jintavee Monsakul, and Donna Green

Return to Introduction to Computers

Return to dfgreen home page
dfgreen.com